comic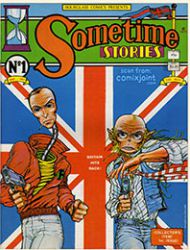 Summary:
The full story of the seminal underground Sometime Stories can be found on McCarthy's website. In brief, he describes it thus:
"Sometime Stories by myself and Brett was drawn in 1976, and released in 1977. Needless to say the publisher ripped us off and we never got paid, and some ulcerous swine ran off with the artwork for number 2...It was a shame it never made it past the first issue...We felt we were going in a totally new direction. Something that was truly British in flavour, but different in its attitude. There were some ridiculous concepts in Sometime Stories. I still particularly like The Red Slug, a very Rog 2000 inspired piece by Brett, and also the main villain of the comic, the deranged Crinkum Crankum who was in fact 'Reason For Man's Existence's Brother'. I liked the Gruff as well, with Mr Skreet-nite and The Royal Blank, who were all basic 'Hat' villains along the lines of Ditko's Crimemaster and The Shadow. I'm still very fond of Brett's creation Felix Adler, which is still in a way my favourite character of his. Finn Mac Cool was based on my continuing interest in most things Irish."
Much of the inspired weirdness of both men's later work is already very much apparent in Sometime Stories, infused with heavy doses of '60s pop surrealism, Irish folklore and then-current punk rock attitude.
Chapters (1)
Related Sometime Stories
comic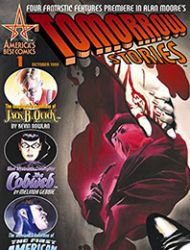 Others by Horrors