comic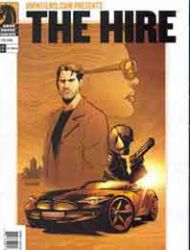 Summary:
Author Raymond Chandler wrote, "Down these mean streets a man must go who is not himself mean, who is neither tarnished nor afraid."
Chandler was talking about his own character, Philip Marlowe, but he could just as easily been referring to the Hire, the star of BMW Films' series of short films. Now Dark Horse and BMW Films are bringing The Hire—the enigmatic hero capable of doing the hard thing for the right reasons—to the comics page.
Just as each of the films is directed by a different top director, each issue of The Hire will be a stand-alone story by a different top creator or creator team. First up: Matt Wagner, the creator of Grendel and Mage.
When the Hire is asked to sneak a rich man's spoiled, scandalous daughter out of town, he thinks the worst he'll have to deal with are persistent paparazzi. Then the bullets start to fly…
This summer, there's a new kind of hero at the wheel. Buckle up!

Related BMWfilms.com's The Hire
comic
Others by Francisco Ruiz Velascos
comic