comic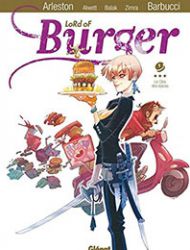 Summary:
When you run a 3-star restaurant, you have no room for error. And the great Alessandro Caprese is not an easy chef. It is not his killer who will say otherwise.
Following the murder of their father, Ambre and Arthur inherit a debt of several million euros. Therefore, no other choice but to take over the family restaurant. But Ambre's thing is sculpture and Arthur's, fast food. Too bad, we will have to roll up our sleeves, because fortune depends on the famous red guide and his critics. And the inspector must arrive at any moment?
The concept :
Imagined by Arleston and drawn by Alessandro Barbucci, Lord of Burger is a series whose dramaturgy borrows a lot from manga and comics. The tone is sometimes humorous, sometimes melodramatic, unity being ensured by the dynamism of the narration. In each album readers will find supplements: cooking recipes, wine sheets, tips and tricks from the greatest chefs, etc. These "bonuses" are directly integrated into the plot, for a tasty whole fun! In short, an appetizing concept, for a resolutely modern series!
Related Lord of Burger
Others by Balaks
comic